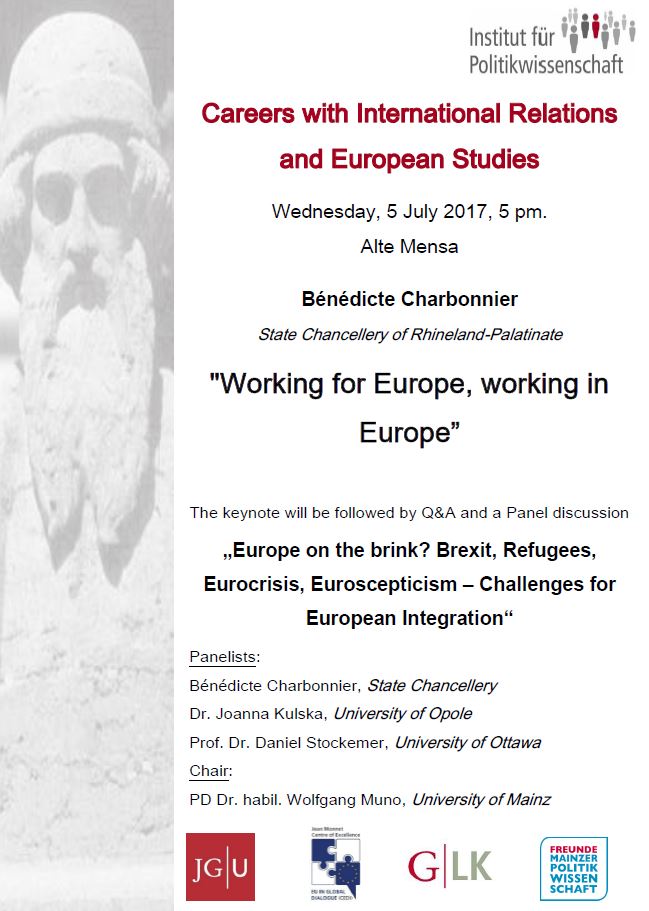 The Chair of International Politics, in collaboration with the Freunde der Mainzer Politikwissenschaft and the Jean Monnet Centre for Excellence "EU in Global Dialogue", is happy to invite you to an upcoming Keynote and Panel Discussion of our series "Careers in International Relations and European Studies".
On Wednesday, 5 July 2017, 5pm in the Alte Mensa Building, Bénédicte Charbonnier, State Chancellery of Rhineland-Palatinate, will give us some insights into "Working for Europe, working with Europe". Ms. Charbonnier's career has  led her inter alia to the Representation of Rhineland-Palatinate in Brussels as well as the State Chancellery in Mainz, where she is currently charged with coordinating the quatripartite partnership between Rhineland-Palatinate, Opole, Bourgogne-Franche-Comté and Bohemia. Her keynote will be followed by Q&A.
The event will be complemented by a Panel discussion on "Europe on the brink? Brexit, Refugees, Eurocrisis, Euroscepticism – Challenges for European Integration".
Panelists: Bénédicte Charbonnier (State Chancellery), Dr. Joanna Kulska (University of Opole) and Prof. Dr. Daniel Stockemer (University of Ottawa).
The Panel will be chaired by PD Dr. habil. Wolfgang Muno.
We look forward to welcoming you!