A lecture will be held in English from the series of lectures "Careers with International Relations and European Studies" organized by the Department of International Politics (GLK-Project on the Internationalization of Teaching) and the Friends of Mainz's Political Science.
More informations: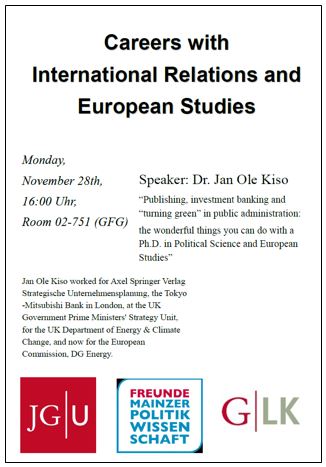 Monday,  November 28th, 16:00 Uhr,  Room 02-751 (GFG)
Speaker: Dr. Jan Ole Kiso "Publishing, investment banking and "turning green" in public administration:  the wonderful things you can do with a Ph.D. in Political Science and European Studies"
Jan Ole Kiso worked for Axel Springer Verlag Strategische Unternehmensplanung, the Tokyo -Mitsubishi Bank in London, at the UK Government Prime Ministers' Strategy Unit, for the UK Department of Energy & Climate Change, and now for the European Commission, DG Energy.
Listeners are welcome!